Are you pumping out one piece of content after the next, not knowing which ones are actually delivering results for your business? If so, this post is for you. I'm not going to talk about measuring your content based on the number of views or social shares. I'm going to show you how to measure conversions from your content, as well as show you how to turn each piece of content into a conversion generator.
Start by Setting Goals
We'll assume you are already using Google Analytics to learn about your website visitors. If not, be sure to install it now. Google Analytics allows you to track goal completions on your website as conversions. Most businesses can track conversions in relation to one of three main groups: sales, lead form submissions and email list signups.
The simplest way to track goal completions in these three groups is using the URL Destination goal type. (This tracks if someone lands on a specific page on your website, made a purchase, submitted a lead or contact form, or signed up for your email list.)
For example, let's say your website's main purpose is to generate leads for your business. Whenever someone submits a contact form on your website, it leads to a thank you page on your domain (http://domain.com/thank-you/). Your Google Analytics goal setup will look like the following.
Once this is set up, you will learn what content leads to the most conversions on your website using specific reports throughout Google Analytics.
Which pieces of content drive the most conversion for your business? This depends on where you publish your content. Review these reports for the best tracking:
Reports: Tracking Conversions for On-Site Content
Many Google Analytics users know to check their Landing Pages report in the Behavior section to see which landing pages lead to conversions. When it comes to content, such as blog content, the blog post that entices a visitor to make a conversion may not be the page upon which he or she enters your website.
The report you want is the Goal URLs report under the Conversions section. This report will show you the page upon which a goal has been completed. First, click on the link for your thank you page(s). Then use the Secondary Dimension dropdown and select Goal Previous Step – 1.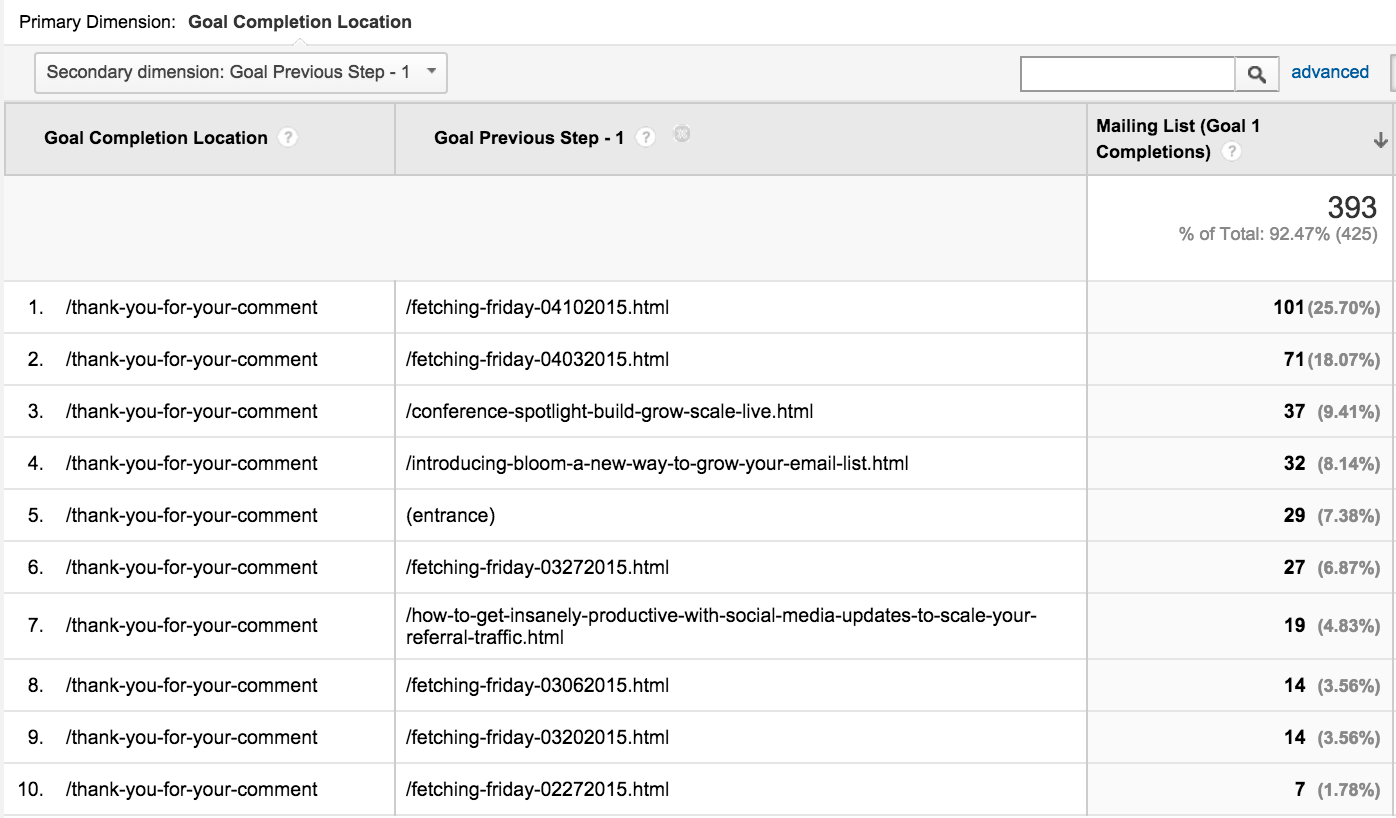 The Goal Previous Step – 1 column will show the piece of content people visited prior to visiting your goal. You'll be able to see the on-site content that leads to the most conversions for your business.
Reports: Tracking Conversions for Off-Site Content
Off-site content, such as guest publications that lead to conversions, is simpler to track. Review your Referrals report under the Acquisitions section. This report shows you the domains that drive traffic to your website.
From the above view, determine which sites drive traffic that leads to conversions on your website. Dive deeper by clicking on any of the domains to see which specific pieces of content lead to conversions.
From the above view, determine which sites drive traffic that leads to conversions on your website. Dive deeper by clicking on any of the domains to see which specific pieces of content lead to conversions.
For those who create presentations and video, content on SlideShare, YouTube and other networks will also appear in this report.
Turn Content Into Conversion Generators
There are many ways to ensure your content leads to more conversions. Include a call to action for each piece of content you create. Examples include:
A banner that invites visitors to sign up for a free trial
An opt-in form in the sidebar and at the end of your content to encourage people to sign up for your mailing list
A contact/lead submission form in your sidebar to entice people to learn more about your business
A bonus piece of content visitors can download free in exchange for their email address
A link to a landing page where visitors can buy a product discussed in your content
As for off-site content, make sure you include at least one link in your author bio, your presentation description or in your YouTube video to a landing page on your website related to the piece of content. For example, if you write a guest post about Facebook marketing, your author bio should have a link to your free email course on advanced Facebook marketing.
Continue to find ways to optimize your content for conversions, and analyze your Google Analytics to ensure your content is driving real results for your business.