I'll just go ahead and admit it: Stressful family gatherings aren't my thing. And by "not my thing," I mean that the thought of attending them sometimes makes me want to empty my water bottle and fill it with 100-proof vodka. Classy, I know.
But you should know that my dislike for family gatherings isn't due to the actual time spent with family. It's the hard work it sometimes takes to make sure everything goes smoothly.
That's kind of how content marketing works, too — you've got to put in lots of hard work to see the results you want. Otherwise, you'll just end up wasting time and resources.
Don't let that happen. Check out these five content marketing lessons you can learn from Thanksgiving family gatherings:
Just show up
I get it — you'd rather dive head-first into a pool of pissed-off piranhas than listen to your family members bicker all day long. And I can't say that I blame you.
But guess what? You've got to show up anyway. So, gather every ounce of courage you've got and go.
See, showing up is half the battle with family gatherings… and content marketing. Writing is time-consuming and creating a content strategy takes lots of research, but you've got to consistently make it a priority if you want to succeed. That doesn't mean showing up to write and strategize just when you feel like it — it means showing up every day ready to grow your business with content.
Focus on giving
When you're hanging out with irritating family members, you'll only feel worse if you think about how much you hate your life in those moments. Instead, shift the focus to giving by helping others feel comfortable (yes, even that obnoxious uncle who shares hate-fueled political posts on Facebook. Ugh.).
Now, how does this connect to content marketing? Well, the point here is that your content should give your target audience something. Specifically, valuable information that they need.
Think about it like this. If you own a company that offers IT services to small businesses, you might be tempted to blog about how great your business is or fill your posts with "tech talk" about your services.
…But wait. Your target audience doesn't care about that stuff, because it isn't relevant to them.
It'd be a much better idea to blog about something that would help them out and also relates to your services in a way. For example, you could start an "IT Q&A" blog in which you address common problems that small business owners face when trying to get their computers running correctly.
See how that works? The content is both useful for your audience (something that they'll search for) and related to what you're selling (which might make them interested in your services if they need IT help).
Giving. Try it next time you create content.
Ignore negativity (it's not your job to please everyone)
"Oh honey, it's OK. You'll find a man eventually."
"You know, when I was your age, I'd already popped out five kids. Why don't you have any?"
"Surely you can find a better job than that."
It's easy to let these kinds of comments from family members get to you, but don't. Their opinions of the way you're living your life don't really matter.
People are probably going to say negative, unwanted things about the content you create for your business too, but you've got to shake that negativity off.
I mean, not everyone on the planet is going to like your brand. If they do, you're probably creating mediocre, bland content in an attempt to please everyone (as opposed to just your audience).
The problem? That kind of content won't get you any raving fans — just people who feel lukewarm about your business. You don't want that, so tune out the haters and focus only on giving your target audience what they want. They're the ones who matter.
Don't overdo it
OK, so you probably have to attend some kind of family gathering over the Thanksgiving holiday. But you do not (I repeat: do NOT) have to stay the night.
If you're introverted or just plain not in the mood for socializing this year, don't force yourself to hang out longer than you have to. You'll just end up feeling cranky and drained.
Similarly, you should avoid doing too much when you're marketing content for your business. That includes:
Tweeting so often that your followers not only unfollow you but tell their entire network how annoying you are
Publishing tons of low-quality, keyword-stuffed blog posts in the hopes that it will "help your SEO" or some other nonsense
Sending out promotional emails way too often (by the way, please don't send emails to someone who hasn't signed up to receive them)
Now, I'm not saying you should publish content infrequently, either. If you do, your audience might end up forgetting about you. Do some research to see what kind of content publishing schedule is best for your industry, and adjust your strategy as you learn.
Try to have fun
C'mon, deep down, you know you love your family. And you probably don't see them too often, so at least try to have a good time with them while you have the chance.
Same goes for your content. There is no rule that says your writing needs to be boring, overly technical or stuffy. Make it fun by:
Using pop culture references (this post is a great example)
Using your sense of humor to your advantage
Putting images/memes in your blog posts to make them more entertaining
So, there you have it. Hopefully, you've learned a bit about content marketing and how to survive the holidays this year.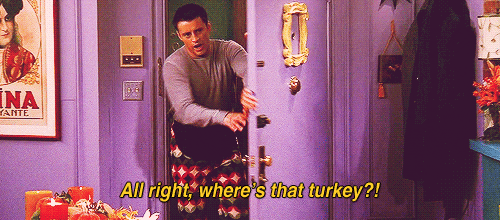 Good luck, and Happy Thanksgiving!